One of my fondest memories as a kid is thunderstorms. They were truly electrifying experiences; emotions delicately balanced between awe and wonder and sheer terror.
It made me feel so human and powerless to nature and it made God so
BIG
and powerful.
In that state of awe and fright, I would seek out my mom. We would go to the kitchen where the wall of plate glass windows allowed us to watch the night sky light up during God's miraculous fireworks display. I was comforted by watching the lightening (perhaps because thunder was then expected) and having my mom nearby - the ice-cream she dished up didn't hurt either...
The tables were turned tonight.
I
was the comforter.
I
am now "the mom".
We do not have the view I had as a kid. It hardly mattered, since the storm was right on us - much like having it in our living room.
We traded ice-cream for popcorn.
The scenery had changed, but not the circumstances. This time
my
kids were looking to Mom for strength and comfort.
Ian tucked his head into my neck, leaving a trailing hand in my popcorn bowl... Stefan snuggled in on my legs.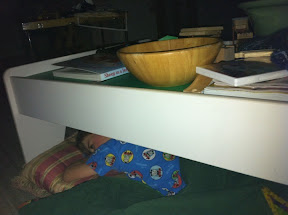 Dougie nestled in under the train table next to me.
They all eventually fell asleep as the thunder continued to roll in the distance.
It is good to be needed in this way. It gives one a certain feeling, much like the one felt during the storm. A mixed sense of awe and slight terror.
I believe I am
thunderstruck
...
- Posted using BlogPress from my iPhone